College Leadership Team
Azza El Sherbiny – CEO
Mrs. ElSherbiny is a holder of a master's degree in Quality Education Management, and a Doctor of Philosophy in Education, from Wolverhampton University, England. She started her career as a teacher, then went up the ladder from a head of department to a school Managing Director. Mrs. ElSherbiny was a School Director for one of the esteemed schools in Egypt for almost 15 years, delivering Egyptian National Curriculum, British International Curriculum, and the American Curriculum. Since 2004 Mrs. ElSherbiny also served as a member and an Associate Lead Evaluator on many diverse AdvancEd external review teams to accredit schools mostly in the Arab world. She is one of the co-founders of Malvern College Egypt and was officially appointed as the CEO in 2015. She also works as an Education Consultant, working with some reputable schools in Egypt and the Middle East. Mrs. ElSherbiny also has other hats with a few NGO's; she has been 'The Seeds of Peace' Regional Coordinator. The IEARN Egyptian representative to USA. She currently serves as the United Nations NGO, DPI representative for the Middle East.
Wayne Maher – Headmaster
Wayne Maher graduated from Royal Holloway, University of London, in 1999 with a BSc (Hons) Degree in Biological Sciences. After traveling and working in environmental education, Wayne decided to formally train in teaching and completed his PGCE in Secondary Science at the University of Portsmouth, UK, in 2003. Wayne was promoted during his first year of teaching into a Science coordinator role and soon moved with his wife, Nicola, to Dubai to be a part of establishing a brand new international school. He then moved to China, where he worked through a range of promotions as he helped lead the Dulwich College Suzhou senior school into a brand new purpose built campus. After six successful years in China Wayne and his family moved to Cairo in January 2016 as part of the founding College Leadership Team in his role as Head of Secondary School. Wayne was promoted to the position of Headmaster at MCE in January 2018.
Sally Dibb-Holland – Head of Primary School
After working on the New Scientist Magazine and studying at Aston University in Birmingham, Sally went to U.C.E in Birmingham to follow a B.Ed (Hons). She graduated with a first class honours degree and took up her first teaching post at Nansen School in Birmingham in 1982 teaching Years 2 & 4, whilst raising a young family. Sally then moved in 1996 with her husband to Saudi Arabia where she took up the position of Head of Pre-Prep at Jeddah Prep and Grammar School (JPGS) a co-educational day school from 4-16 years. Whilst at JPGS, Sally co-ordinated the Early Years move to a new school building. Their youngest son was born in Jeddah completing their family of 3. Sally subsequently returned to the U.K. in 2001 becoming Head of Nursery and Deputy Head of Pre-Prep at Taunton School in Somerset, a co-educational day and boarding school from 0-18 years. Following 13 years at Taunton School, in 2013 Sally and her husband moved to Qatar to open the newly expanded West Bay Campus of Doha College Primary as Head of Early Years. Sally arrived at Malvern College Egypt 3 years later as Deputy Head of Primary and founding Head of Early Years now encompassing Year 1. Sally is a passionate exponent of a child centred, holistic approach to Early Years Education, she is an active overseas inspector for the Independent Schools' Inspectorate.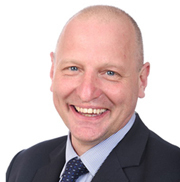 Richard Moore – Head of Secondary School
Richard Moore was educated at Woodbridge School in Suffolk and Brunel University (WLIHE), where he gained a Bachelor of Education. Richard taught at a school in Ealing London for 10 years before moving to a teaching post in Hong Kong for 6 years. Richard returned to work in a school in Marlborough, Wiltshire before taking the post in Cairo Egypt.